Working in Portland
The Electrons Are Cleaner Here, Too
Yesterday, a ship arrived in Portland harbor (pictured above) to unload a cargo of wind turbine tower segments at the cargo terminal near the Casco Bay Bridge. Maine has been a leader among northeastern states in building new sources of renewable electricity in recent years, from wind farms to biomass boilers that burn waste wood from the state's paper mills.
In 2011, more than a quarter of the electricity generated in Maine came from biomass or wind power. Add in hydroelectric power from the dams on Maine's rivers, and the share of renewable energy rises to half of the power generated here. All told, Maine has a hefty lead over the 49 other states in the effort to generate cleaner, more sustainable electricity, as this chart from the Energy Information Administration demonstrates: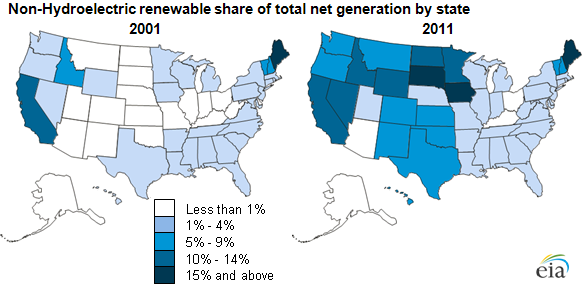 While more electricity is coming from renewable sources, a new sector of energy efficiency businesses is also reducing the overall amount of electricity that Mainers use. Maine's wind farms, dams, and biomass boilers actually generate more energy than our frugal residents and industries need for themselves, which means that much of this clean power becomes a profitable export to southern New England. Our wind farms are on pace to generate one million megawatt hours of electricity this year, which that means that older, dirtier power plants to our south have less and less work to do. Encouragingly, some of the dirtiest coal plants, like the one in Salem, Massachusetts, are being shut down altogether.
Generating electricity from local, renewable sources — as opposed to importing dirty fuels from thousands of miles away — is consistent with Maine's traditions of frugality, self-reliance, and environmental stewardship. If you're looking for a place to reduce the carbon footprint of your household or small business, we think you'll appreciate the positive energy we have in the Pine Tree State.
Photo: wind turbine parts being unloaded in the Port of Portland, Maine. Photo by the author.
Comment / Reply